from the editor of 68Caliber – the list of markers compiled by Hitman and Greyops paintball was provided to 68Caliber as the beginning of a cooperative effort between this site, Hitman video reviews and the GreyOps paintball blog.
All three of us have additional content that will be rolling out on our various sites (and jointly as well) over the course of 2011, and hopefully beyond.
The Top Ten selected were drawn from markers that have been introduced to the market since about 1988 or so, extending right up to the present. You may not agree with the selections, but you can't argue that each and every gun has made its mark.
Why not use the comments to suggest your own and see how well you track, over the course of the next ten days, with the selections offered here?
by Hitman & Greyops
Woodsball has come a long way over the years, and is after all, the absolute origin of paintball. However, for a long time woodsball was dismissed and neglected by most of the industry until about 6 years ago when there was a Milsim BOOM. Milsim (meaning military simulation) allows players to compete in a myriad of "scenario" games with realistic or just plain cool gear. These new woodsball or "Milsim" markers have been where it is at for Paintball lately.
But what are the best of the best? Through this article we will show you our personal TOP 10 Milsim/Woodsball markers as of 2011.
To qualify for this list markers had to be:
Woodsball/Milsim oriented
Made by a legitimate company
Markers could NOT be; pump, handgun, special edition, limited run, or custom made.
#10: Tippmann SMG 60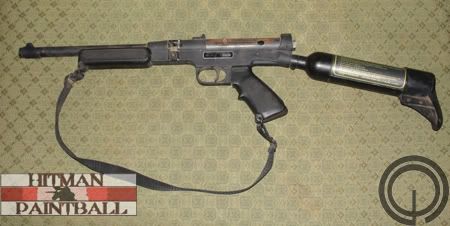 This .60 caliber bad boy was a real game changer when it was first released in 1987. It boasted fully automatic firing and a clip fed loading system. This first mass produced marker to break the pump/single action barrier. It had the ability to fire in both semi auto and full auto. It was also one of if not the first marker to emulate a real military service weapon making it the grandfather of all Milsim markers. Unfortunately it suffers in the performance department from the use of stripper clips which were cumbersome and not very fast or easy to reload compared to other markers. Also it may be worth to note it was banned at many fields due to safety concerns and Full auto mode (which was viewed as unfair and unsafe at the time).
Cost when new: $250
TOMORROW:  #9
This article is a cooperative effort by GreyOps Blog and Hitman Paintball Reviews.
You can find out more about these authors at:
This article and its content reflect the opinions of the authors and is not affiliated with any commercial entity or publication. This list was intended for entertainment purposes ONLY.
Thanks for reading and happy holidays!
*All images obtained through limited license to modify and display as per Photobucket's Terms of Use (6.1).
About the Authors:
Stan Boudreau – Hitman Paintball
Stan Boudreau has been playing paintball for over 10 years and has competed in several speedball tournaments, countless scenario games, and will be entering a third season of ATWL (Atlantic Tactical Woodsball league) this summer. Stan is the former owner of Milsim oriented paintball Proshop called Hitman Paintball, which was a located in Halifax, Nova scotia Canada.
Today, Stan studies for his Bachelor of Arts degree at Mount Alison university and runs Hitman Paintball as an independent review show you can see on his youtube channel. "Hitman Paintball Reviews" aims to bring a high quality unbiased look at gear to players who want a more in depth approach that doesn't have industry strings or agenda attached. Stan has been entrusted with products for review from 17 companies that are (in alphabetical order)  A+ Machine Paintball, BT Battle Tested, Custom Products, Deadly winds, Exalt, Extreme Rage, FLASC, Goblin Micro Launchers, Hammer Head, Invert, Milsig, Palmers Pursuit Shop, Planet Eclipse, Rap4 Real Action Paintball, Redz Comfort Paintball, SITE Manufacturing, and Trinity.
You can keep up to date with Stan's video media at the Hitman Paintball youtube channel:
http://www.youtube.com/user/HitmanPaintball
You can also check out the official Hitman Paintball blog for written reviews, pictorials, articles, and upcoming reviews:
http://hitmanpaintball.blogspot.com/
If you would like to contact Stan please email Stan_the_hit_man@hotmail.com
Connor & GreyOps
Connor is a relative newcomer to the paintball scene, calling Canada's national capital, Ottawa, home. Having played for the first time in the summer of 2007 in a dinky little indoor dungeon, he's since found a home in the milsim niche. Currently a student studying Chemistry and Arabic at the university of Ottawa, he divides his time between blogging, sleeping, drinking and being poor. Having just finished a 5 year run of municipal employment, Connor is currently unemployed and looking to expand his resume.
Connor's labour of love is Grey Ops (www.greyops.net), formed in the winter of 2009. It currently consists of Connor and Mike, Grey Ops' resident tactician, gear reviewer and author of the popular "Mike's Rant". Grey Ops was designed as a resource for those ­interested in milsim paintball, camouflage and less lethal paintball applications. In fulfilling this goal, it has published many reviews, interviews, videos and divisive bouts of rambling. Grey Ops has since expanded across social media and into various other online presences.
Connor can be reached via email (Connor@greyops.net) and can be found on various paintball forums under the moniker Sandbox Fedaykin (and variants thereof). If you find yourself in the Ottawa area, be sure to look him up for a game at one of Ottawa's many local fields, or just a beer or two.